HOW TO STAND
SOLO EXHIBIT AT MAMEY GALERIA EDDY GUZMAN, SANTO DOMINGO, D.R. 11.16.2017 - 04.12.2018
How to Stand is a site-specific exhibition and installation which inhabits the gallery by architecturally and sculpturally intervening the space. It acknowledges the history and architecture of the Colonial Zone of Santo Domingo, Dominican Republic and it responds to certain architectural elements by creating sculptures that re-contextualize their original function and labor. Influenced by the language of systems of support, architecture, and museology, this exhibit highlights a relationship between human, architectural, and sculptural bodies. It is an exhibit that plays with scale and with its audience while igniting the imagination of spaces and movement beyond functional references.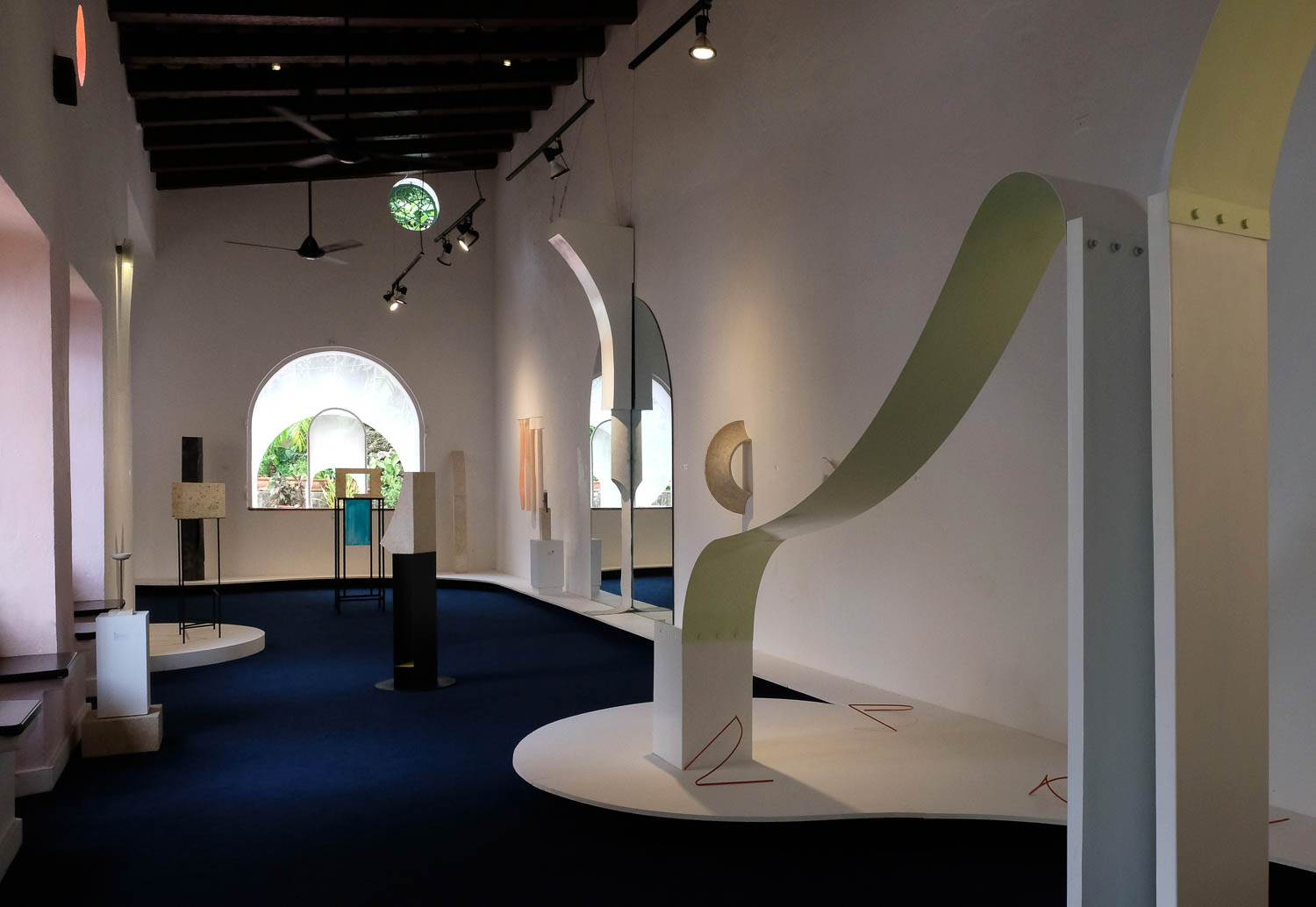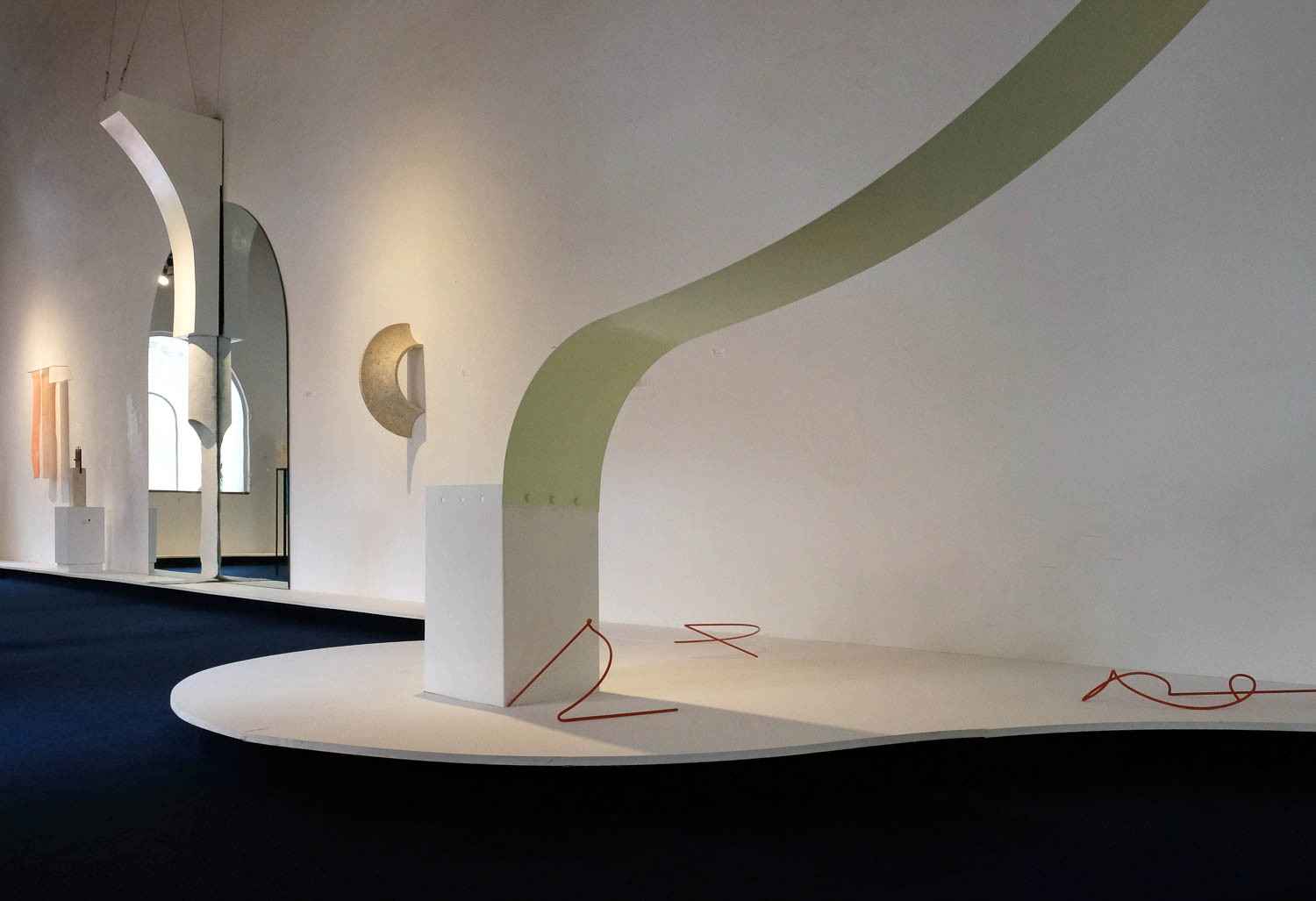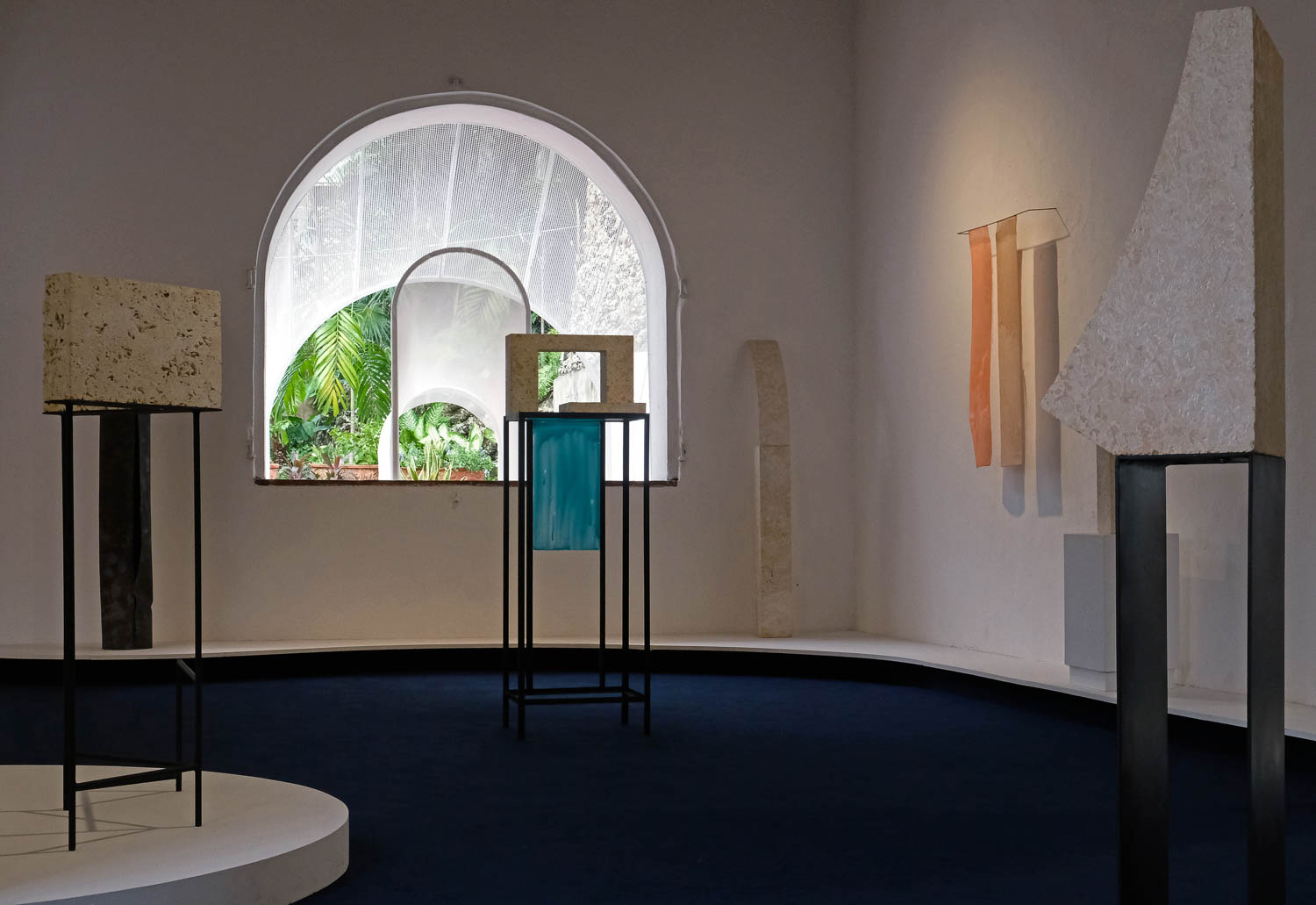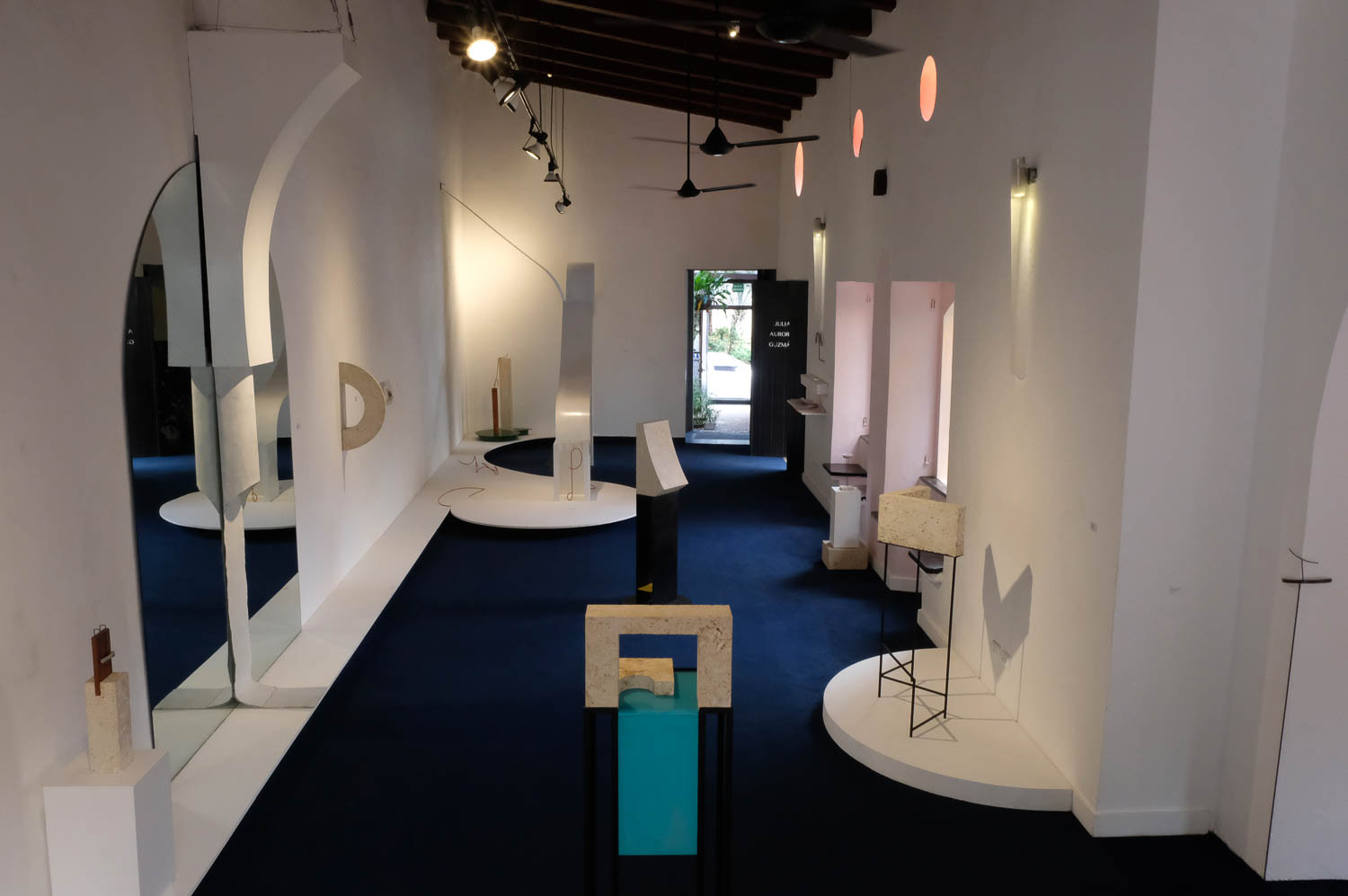 La Palma
2017, Metal, 132.5" x 175" x 69.5"

A site-specific sculptural installation; a column that splits like a palm into different poly-lobed arches which geometrically reference the existing ones in the gallery space. An architectural intervention and an interactive sculpture whose negative spaces are activated once the spectator enters and follows the path the installation is offering. This piece takes ownership of its place in the gallery by attaching itself to the wall and the floor, thus collaborating with the integral platform of the show.
Absent in a Spiral
2017, Metal, Mahogany Wood, Coral Stone, 42" x 26.5" x 33.25"

Shorthand, a system of transcribing spoken language via rapid handwriting inspired this series of 3-D metal sculptures. These have allowed me to give selected words my spatial interpretations between the lengths and curves which define each shorthand, thus activating a gesture in space, a relationship with gravity, and volume. These sculptures carry the essence of shorthand while introducing this writing system to countless dynamic perspectives. 'Absent in a Spiral' carries the metal interpretation of the shorthand symbol of "Absent", while the word is being balanced, and held by coral stone, mahogany wood, and a metal spiral plate – materials and symbols chosen in this exhibit to represent the foundation of colonial architecture of the Greater Antilles.
Metal Abstract, Comfort, Idea and Embodiment are also metal sculptures that carry the spatial interpretation of these selected words.
Calculated Arch in Display
2017, Coral Stone, Mahogany Wood, Metal, Duracal, 19" x 4" x 4"
Reptil
2017, Plexi-glass, Mesh, Hydrocal, Plaster, 3" x 24" x 8"
Oculo Lateral
2017, Coral Stone, 25.25" x 12.5" x 6"
Cascada de Campo
2017, Metal, Coral Stone, Plexi-glass, Acrylic Paint, 53" x 17" x 13"

An architectural maquette-like sculpture. A piece that carries the phenomenology of immensity while it plays with the spectator's imagination in relation to its possibilities of functionality and grandeur. The resemblance of its materials and color to those of Caribbean dwellings make it a target to be matched with one's memory.
How to Biography
2017, Fiberglass, Wax, Mesh, Thread, Metal, 38" x 26" x 4.5"
Medio Arco en su Casa
2017, Coral Stone, 56.75" x 5" x 13"
In an exhibit that pays attention to support systems, this sculpture is composed by a classical, vertical pedestal that is holding an objectified element of the gallery space - an arch. An arch that is perfectly embedded between the shared support of the pedestal and the gallery wall.
La Abrazadora
2017, Metal, 56.75" x 5" x 13"
This sculpture continues my exploration of the idea of absence, seeming like a calculated metal support for a round object which is actually non-existent. Instead, the sculpture embraces the gallery space – acknowledging a corner. A piece that plays with scale by being a support-object acknowledging the greater support infrastructure that is the gallery.
Ombligo Arquitectónico
2017, Coral Stone, Metal, White Cement, Plaster, 11" x 4" x 4"
An anthropomorphic abstract sculpture composed by a rigid structure supporting an object that resembles the human navel. This piece plays with the relationship between the human and sculptural body in an intimate scale.
Busto
2017, Metal, Coral Stone, Fabric, 51.5" x 11.5" x 20"
Ele Espacial
2017, Metal, Coral Stone, 43" x 30" x 15"
Arch being Held
2017, Metal, Plastic, Cement, Mesh, 11" x 17" x 1"
La Nasa
2017, Metal, Mesh, Plastic, MDF, Water, Light, 170" x 152" x 109"
An installation that acts as an architectural intervention, continuing the interior gallery space to the exterior. A sculpture that offers an immersive and interactive experience. It follows the rigid structure of the window, however it's softened by two layers of mesh, which degrade in thickness as to have the thinnest one hold the spectator inside more intimately. The structure has an inclination which changes the perspective of the space when seeing it from the inside, while the outside forces the viewer's body to bend and adapt their bodies to fit inside. With the addition of water, its sound, and light – the piece intends to activate our senses and experience.
A nasa, in Spanish, is a passive fish net that has two layers of mesh acting as a trap, while having something enticing inside that captures their attention.
La Lengua del Arco de Mamey
2017,
Mirror, Metal, Acrylic Mesh, White Cement
128" x 84" x 16"

An installation and architectural intervention - this piece responds directly to the dimensions and proportions of the space. The mirror-arch follows the existing arches of the space, maintaining the same impost while it acknowledges the rest of the exhibition in its reflection. The unfinished arch has the radius of an absent one, if it existed between the East and West walls of the gallery. The half column, made by white cement rubbed into acrylic mesh, completes itself in the mirror, decomposing to a flat "tongue" that rests on the main platform of the exhibition.